Mobile Application Development is basically the progression by which application software is developed for low power handheld devices; this includes personal digital assistants, enterprise digital assistants or mobile phones.
Mobile app development helps the individual business or a group to build up new contacts and later on use them for different marketing campaigns. We at Microten Solutions provide the easy method to your customers to reach you on one touch application. We proffer number of services for the same that include.
Calling customer services
GPS directions to the nearest store
E-mail and messaging
Website link
Additionally through our exclusive Mobile application development services you can even receive instant feedback from customers through postings on a wall or express views in other ways. The use of a mobile application will allow you to create tabs for every type of information that you want to notify your customers such as
Information on your newly launched products
Added services and other information on marketing
Uploading and downloading unique mobile application for developing the relationships with your target audience is the best and simplest way. You can start building up your customer base now to reap the rewards with Microten Solutions. We are the premier development and designing company engaged in offering potential mobile application development services. We offer mobile application development services across the array of platforms globally and the expertise includes
IPad
Android
Windows mobile phone 8
Iphone
Blackberry
An agile team of expert professionals that are endowed with latest technology is there to serve your any mobile application development requirement. The company has proven track records to provide excellence in application development services. Years of experience with combination to latest technological know-how makes it possible to serve the best to our clientele.
Dedicated team of experts, supportive assistance, well trained and skilled professionals and recent and most advanced technology use makes the difference between our services and others'.
We focus to provide time-bound and on-budget application development solutions
Messaging and synchronization
Mobile advertisements
Social networking
Mobile media streaming
Mobile voice-over Internet protocol
Gaming
There are many other mobile application development services offered by us. To know more feel free to contact us anytime.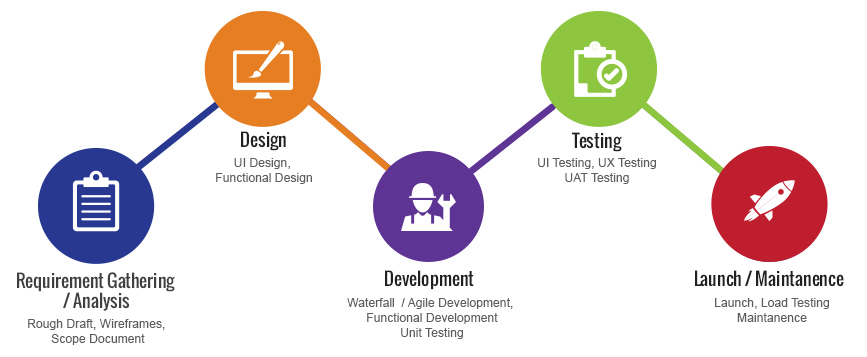 MOBILE APPLICATION DEVELOPMENT PROCESS
Requirement Analysis: Determining the expectations and requirement of our customers to ensure an accurate implementation. We communicate with the customers to determine their specific feature expectation and then build app strategy accordingly to offer a new and modified product.
Requirement Gathering: We create a list of product requirements from the perspective of our customers. We take the detailed project-related information from our customers that are gathered from supporting documents, process specs, systems, on-site analysis, market research, competitor analysis and end-user interviews; and decide the best possible way to implement it. We define and analyze the requirements of our customers that allow our developers to know what they have to accomplish. We then create use cases, and generate a use case model. The next step would be validating and cost estimating the scope of the project.
Discussion and planning: Our next step is conceptualization and planning. We communicate with our customers for thorough discussions about their views and expectations, and then plan the best strategy to deliver the app that satisfies their specific requirements. Ideally, our development team is involved at the initial stage of the project, and the entire process of building a mobile app is done by the technical people who understand what they have to achieve and how. These technical people tell you if your idea is feasible, and can be successful; and what you can expect from your project within your budget.
Designing Phase – The design phase consists of defining the app's User Experience (UX), including general layout of the app with the information on how it works. Our graphic designer then turn the application's User Experience into a proper User Interface (UI) design. We keep different screen sizes, ratios and resolutions in mind while designing an application's User Interface (UI). Before you dive into code, you must design. The User Experience (UX) Designer creates the interaction architecture of the design elements, and the User Interface (UI) Designer for mobile solutions creates the look and feel of your app. This is a multistep process with its own review stages. After this, we offer you the visual direction and blueprints that inform your engineers about the envisioned final product and how interaction should feel, move and flow.
Development Phase: once an idea has some maturation in the conceptual/inspiration phase, we often develop a working prototype that validates functionality, assumptions, and helps to give an understanding of the scope of the work.
Testing Phase of Mobile App: We test the application early and often on actual devices. User acceptance testing is a process in which we intend to find out if the mobile app works for the users. Finally we create a complete app concept with exciting graphics and perfectly placed text. We then rigorously test your app in a variety of real-world scenarios to sniff out and correct any technical glitches. We initialize the feature and make sure it is supported from the Operating System (OS) to use those configuration settings. We go through our original design and planning documents and every feature of the app to assure that everything works properly in the final concept.
---
App Launch:
The final step is launching the mobile app to the app store so that users can download it. Our team of developers has proper knowledge about the submissions cycle and guidelines of all the app stores, which allows our apps to get reviewed easily. Our apps have a track record of successfully getting accepted, whether it is Apple's App Store, Google Play, or the Windows Phone App store.